Events
AfricaNenda Webinar Series: What do MSMEs need to adopt and use digital financial services for cross-border trade?
7 July 2022
The event unveiled the findings and recommendations of a regional assessment commissioned by the three partners, in order to identify the micro, small and medium enterprises (MSMEs) training needs in using digital payments, for cross-border trade within the COMESA region. The research surveyed 301 active MSMEs cross-border traders in Kenya, Malawi, Rwanda, Uganda and Zambia during the first half of 2022.
The research report reveals that most MSMEs cross-border traders have access to traditional financial institutions or digital financial services. However, they mainly rely on cash to facilitate their cross-border payments​. Among the reasons for cash predominance, the report highlighted the mistrust and the lack of awareness of the digital payment solutions available within the COMESA region.

In his intervention, Steve Yohane, President of the Cross-Border Traders Association of Malawi, said: "Cross-border traders do fear using digital payments. They do not trust e-payments. There is a lack of information on how to use digital solutions to transact as well as on their advantages".
Discussions pointed to the necessity of creating impactful and tailored capacity-building programs for MSMEs cross-border traders to uptake digital financial services. Some areas identified are financial education-related topics, digital literacy, logistical planning, financial services for facilitating trade and digitization of cross-border operations.​

According to experts from AfricaNenda and CBC, these training programs will go a long way in improving MSMEs' businesses. "The adoption of digital financial services by cross-border traders can not only accelerate the formalization of their businesses but also increase their productivity and profitability", said Jacqueline Jumah, Technical Expert, Inclusive Digital Payments at AfricaNenda.

The proposed training programs to bridge the gaps hampering the adoption should be adapted to the specific needs of different cross-border traders' categories, focusing on women involved in cross-border trade, who still face gender-based violence and have limited access to market information and information technologies.

The report also recommended the need for innovation in designing digital payment solutions for cross-border trade. Relevant and accessible payment products have the potential to leverage the digitization of domestic low-value, high-volume payments in the region. In this regard, CBC is developing a digital retail payment system solution to allow financial service providers to innovate in the design of payment solutions.

"There is a need for an easy and intuitive platform trusted by users that protects cross-border traders' transactions" said Jonathan Pinifolo, Digital Financial Inclusion Manager at the COMESA Business Council.

Mactar Seck, Chief of Technology and Innovation at UNECA also stressed the need to put in place an integrated solution that offers opportunities in terms of supply chain management and access to market. In this regard, he spoke about the West Africa Business Linkage Platform launched in September 2021 to provide MSMEs in West Africa with training, capacity-building and job opportunities.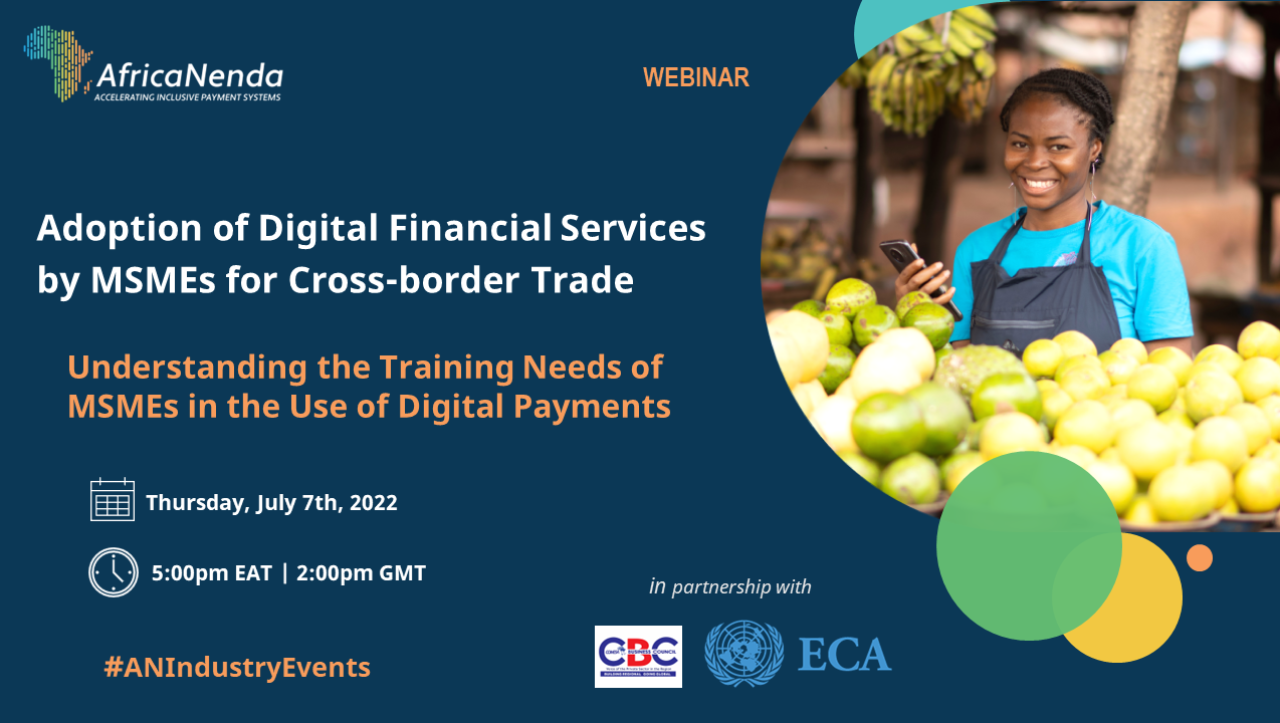 AfricaNenda Webinar : Understanding the Training Needs of MSMEs in the Use of Digital Payments
AfricaNenda Webinar : Understanding the Training Needs of MSMEs in the Use of Digital Payments
AfricaNenda will work with CBC and other relevant stakeholders at national and regional levels to close the identified training gaps. The full report will be available soon on our website.
---
Share this page