Events
AfricaNenda Webinar Series: How Might We Accelerate Financial Inclusion by Promoting IIPS in Africa?
4 May 2022

On May 4th, 2022, AfricaNenda, in partnership with the Digital Frontiers Institute (DFI), hosted a webinar to discuss initiatives to promote Instant and Inclusive Payment Systems and Financial Inclusion in Africa. The webinar brought together over 90 participants from the financial inclusion and digital financial services sectors across Africa.
The discussions focused on establishing a common understanding of the foundational concepts of instant and inclusive payments systems, an emerging phenomenon in the continent, and efforts to leverage these payments systems to accelerate financial inclusion.
The webinar panelists were Xavier Martin, the Divisional Director at DFI, Archie Hesse, CEO of the Ghana Interbank Payment and Settlement Systems company (GhIPSS), Gertrude Kadumbo, the General Manager of Malawi National Switch, Ruhling Herbst, the Executive Head for Africa Business Development at BankservAfrica and Dilwonberish Aberra, the Program Officer at the Financial Services for the Poor (FSP) at the Bill & Melinda Gates Foundation.

Mr Xavier introduced the foundational concepts of instant and inclusive payments systems, highlighting definitions and attributes.He expressed that instant payments systems are real-time, push, interoperable payments, and facilitate low-value transactions for the poor. In terms of key design elements or considerations for the deployment of instant and inclusive payments systems, Xavier articulated three critical steps;
Firstly, a shared vision of what needs to be addressed in any market is fundamental, which will be the force to drive initiatives. He explained that this force was represented by the central banks, private sector associations, among others, in several markets.
Secondly, establishing avenues to collaborate and compete i.e. co-opetition within the system through scheme rules, governance structures and approaches to interoperability.
Lastly, testing the demand side of the market for acceptance to drive adoption and then plan for scale.
Mr Archie shared the journey of GhIPSS in becoming a real-time system and the innovations that characterize this instant payment system. Ghana opted for the centralized interoperable approach where three main payment platforms are fully interoperable : the National Switch "e-zwitch platform", and smart card payment system, the mobile money wallets and interbank switching and processing system , which interconnects financial institutions and systems of third party payment services).
Today, 29 banks, 15 payment service providers, five electronic money issuers and several Savings and Loans institutions are connected to the switch. . All providers who are fund holders can facilitate instant payments.
Overlay services on the above instant payment platform comprise: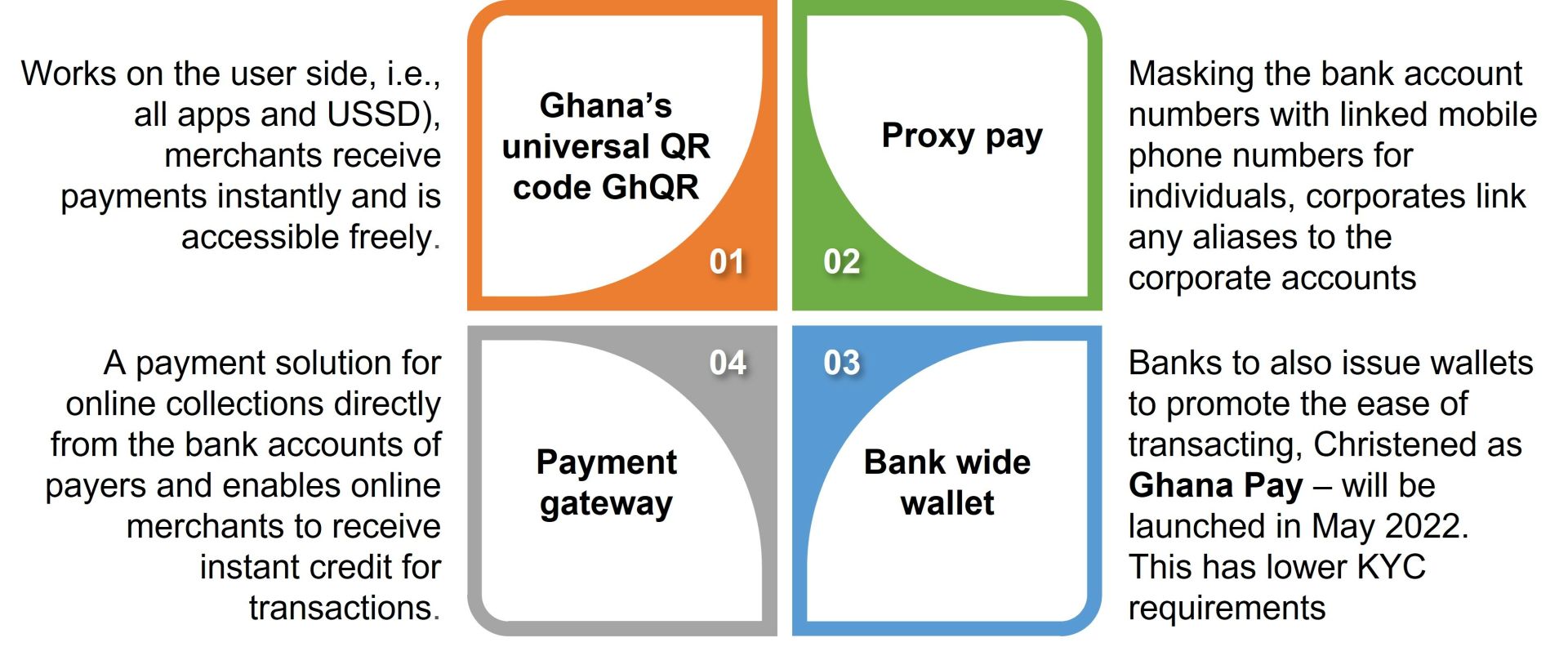 Like Ghana, Malawi implemented a national switch open to all financial institutions. Mrs Kadumbo explaineded that, a regulatory payments framework was initially established to facilitate the onboarding of all stakeholders, thus enabling interoperability. Currently, all banks, mobile money providers, microfinance institutions and savings & loans institutions are connected, through a shared platform to facilitate financial inclusion. Eventhough the necessary instant payments infrastructure is available, cash is still king! There is a need to exceed the benefits of making payments in cash. Financial services providers need to offer digital solutions that mimic cash, but exceed the value proposition to people, especially from low-income households.
Financial institutions in Malawi are not typically interested in the low value – high volume transactions at the moment, yet the instant payments system is slowly resolving payments issues due to real time payment availability and relatively low costs due to interoperability. This means the previously excluded customers are increasing their transactions and digital footprint and will soon be attractive to financial institutions.
On the Malawi Switch, banks, MNOs, microfinance, and savings institutions are connected through a shared platform to facilitate financial inclusion. "We initially worked on a regulatory payment framework to ensure onboarding of all stakeholders. The infrastructure is available, the consumers spoilt for choice," said Gertrude Kadumbo. The financial institutions are not interested in the low value – high volume, yet slowly the earlier excluded customers are growing their transactions and digital footprint. The payment issues are progressively solved thanks to the availability of real-time payments and relatively low costs driven by interoperability.
In terms of cross-border payments Mr Ruhling provided an overview of some benefits and challenges deploying cross-border instant payments systems. He explained that these regional payments systems require regulatory endorsement, authentic governance frameworks, compelling value propositions and centralized hosted operations for enhanced availability.
For system design considerations, he emphasized regulatory adherence including rules development, regulatory alignment and agreement, and the implementation of structures and governance. It is also critical to ensure market mobilization through initiatives that promote market sensitization and efficiency in the technological design and use cases.
From the TCIB experience, Mr Ruhling shared some benefits and challenges as below:
Benefits

Challenges

Setting goals for real impact which involves considerations for speed, transparency, cost, trust, access and inclusion
Forging development through ongoing collaboration and building new relationships to promote the above goals
Being a catalyst for bigger and better things like inter-network alignment and integration from a domestic, international and regional perspective
Driving sustainability and viability through a single infrastructure, lowered costs and a customer base shared by broader network of users
Enables focused development of value propositions, where the platform addresses existing challenges and barriers

Regional cross-border payments systems involve unique and complex landscapes such as multi-currency, voluntary subscription and challenges involved, heterogeneous flexibility by stakeholders, varied domestic regulation alignment, and available settlement options
Understanding of pre-requisites and conditions
Finding the balance during development
Migration and appeal to stakeholders
Ms Dilwonberish ended the panel discussion session by explaining the goals and outcomes of the FSP program of the Bill and Melinda Gates Foundation, as well as how the program supports efforts to promote the implementation of instant and inclusive payments systems in Africa.
The FSP program aims to financially include 80% of the adults worldwide, 60% of which are from poor households, and reduce inequalities in financial inclusion. This course involves more people sliding out of poverty through managing digital financial services to drive resilience and manage shocks.
The FSP program acknowledges three main drivers to financial inclusion:
Enabling regulations to promote the reach in serving the poor,
Low-cost digital financial services can help the poor to cushion shocks and build resilience,
Digital financial services can be delivered at scale through interoperability facilitated by instant and inclusive payments systems.
The Bill & Melinda Gates Foundatio, through grants and other initiatives in the African continent, is supporting and facilitating the development and scale of instant and inclusive payments systems enabling financial access and usage for all, especially the poor households.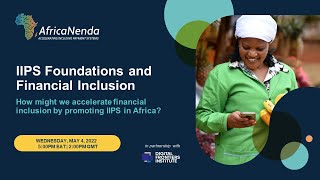 AfricaNenda Webinar on IIPS Foundations & Financial Inclusion - May 2022
AfricaNenda Webinar on IIPS Foundations & Financial Inclusion - May 2022
This webinar is the first of a series that AfricaNenda will host in the coming months for stakeholder capacity building, enabling the development of instant and inclusive payments systems.
Welcome! Join our Community of Practice to be aware of the upcoming webinars and events.
Authors: Jacqueline Jumah and Bery Dieye
---
Share this page