News
Roundtable 3: Bridging the Gap by Building Connections
23 September 2021
On 23 September, AfricaNenda convened a third roundtable on Accelerating a capacity-building movement towards inclusive payment systems that brought together prominent multi-sector experts and stakeholders within the field of financial inclusion and inclusive payment systems on the African continent.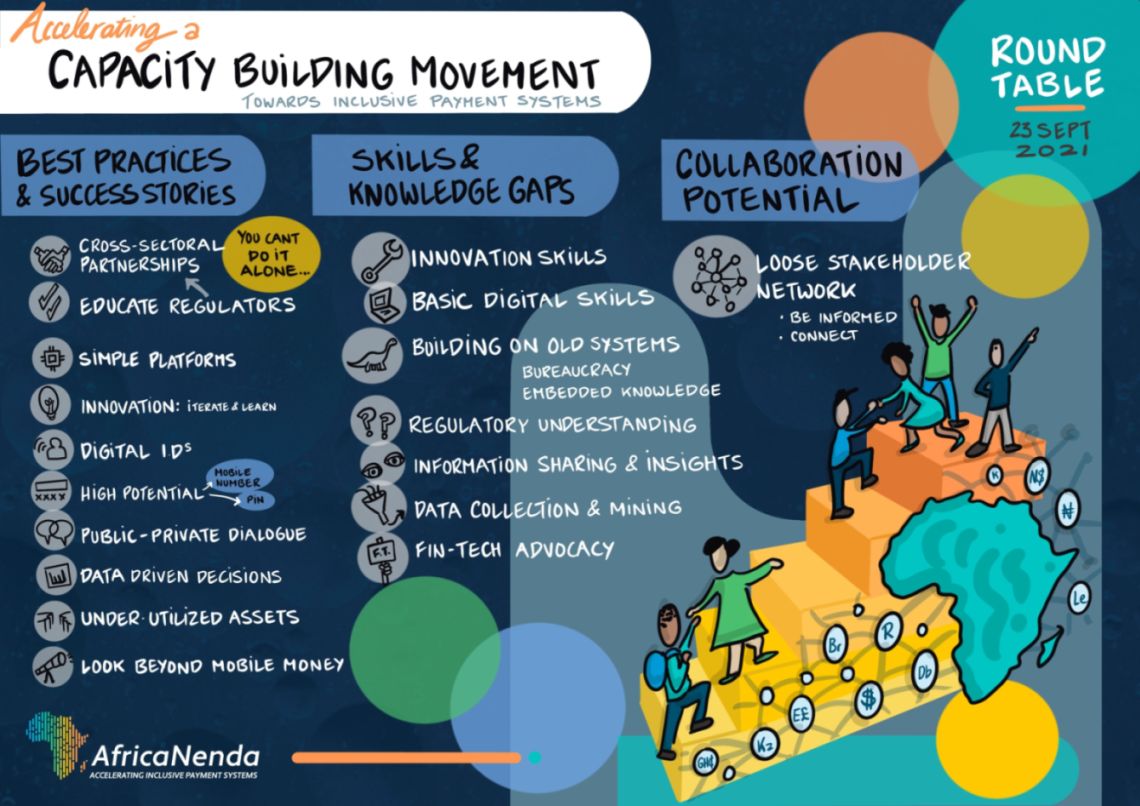 The discussion topics centred around unravelling critical collaboration factors for sustainable partnerships and accelerating the capacity-building movement.
At the convening, some of the key-takeaways from the discussion on unraveling factors for sustainable partnerships included:
Broader sustainable partnerships beyond the payment space need to be considered to address infrastructure challenges
We should leverage under-utilised aspects with high potential such as increasing use of phone numbers and the pin as digital identity
Partnerships are key to:

Successful innovation and to fill-in existing gaps; to increase penetration and expand reach
Successful education of regulators and policymakers will build their capacity to move towards an enabling policy environment
Inclusion of private sector players enables the last mile and reaches the financially excluded

Diversify focus beyond mobile money and include different digital utilities to ensure financial inclusion
The discussion on how partnerships can help accelerate the capacity building movement included perspectives such as:
Businesses need to embed innovation and digital payment skills into their processes - it helps them enter the digital era and meet their last mile delivery challenge
Traditional players wishing to enter the digital payment field need to be educated on digital payment skills
Individual and organisational skills matter; challenge is to build new things on old infrastructure, and to successfully manage organisational change and learning
Sustainable payment systems and inclusivity requires access to knowledge and accurate insights about stakeholder interests and needs
Payment system ecosystem faces challenges in accessing relevant digital databases. Public-private partnerships in accessing data can have a great potential.
What trends do you see influencing a capacity-building movement? Share your thoughts with us!

---
Share this page